If you have concerns about the safety or well being of any child then the number to ring is 01629 533190.
Are you worried about online sexual abuse or the way someone has been communicating with you online? Then please click the CEOP link below.
Latest What's happening in school... Events
Break up for the Easter holiday

12

Apr

2019

School reopens

29

Apr

2019

Year 4 residential to Boggle Hole

08

May

2019

Year 4 residential to Boggle Hole

09

May

2019

Year 4 residential to Boggle Hole

10

May

2019

Key Stage 2 SATs

13

May

2019
Saint Joseph's @stjs_staveley
18 Mar RT @MIssBai69392016: #English #pied piper #uplevel our vocabulary #grow your brain. We have described the rats, how they move, what they l…
18 Mar RT @MIssBai69392016: #science #thermal insulators #scientific investigation. Year 5 have been investigating which material would be the mos…
18 Mar Active Derbyshire support new Boogie Bounce School programme https://t.co/OyrcAH2mUo
15 Mar RT @growthstaveley: Drum making and tool shaping. Ready for some real tribal woodland action #playing #creativity #comicrelief2019 #FunFact…
15 Mar In order to celebrate the end of our Community Growth sessions, the Y4 children have helped to make a drum using an… https://t.co/niQzPIvOrP
15 Mar Health and Wellbeing Community Growth Unfortunately, the wind meant it was not safe for us to visit the woods thi… https://t.co/GH7NFzwbuS
15 Mar And the winner is........#gokartracing #healthandwellbeing https://t.co/MhGyJivCFx
15 Mar Protection gear all on and ready for the go kart racing. #SafetyFirst #healthandwellbeing https://t.co/9HP7dZ3CIB
Admission policy 2020/21 - open for consultation
WELCOME TO SAINT JOSEPH'S
#pride
Mrs Lowry's pride award this week goes to Holly A.
"A calm, welcoming atmosphere permeates the school. An energy and buzz in all classrooms reflect your commitment to make a positive difference for every pupil" Ofsted February 2018

Offering 30 hours Nursery provision. Please look under Admissions on Parent zone for how to register your interest.
With the Love of God we Learn, Grow and Achieve
Our vision at St Joseph's is to develop and support children in becoming life-long learners, by providing a caring and stimulating environment.
Our children are given the opportunity to learn and grow in the knowledge and love of God.
Through the Christian Ethos, children are equipped with the skills to recognise, value and celebrate differences.
High expectations of the school community ensure children flourish, enabling them to reach their full potential, becoming independent, confident happy learners and curious about the world in which they live.
At Saint Joseph's we not only realise that English and Maths are important, but that our children being engaged, healthy and confident is important too. On Friday afternoons, everyone will take part in Health and Wellbeing afternoons, experiencing activities that encourage them to take risks, works as a team and enjoy the great outdoors. Our exciting activities include a climbing wall, yoga, visits to Poolsbrook Park and Pleasley Vale, gardening and understanding personal fitness. Every child will experience each of these activities between now and the summer.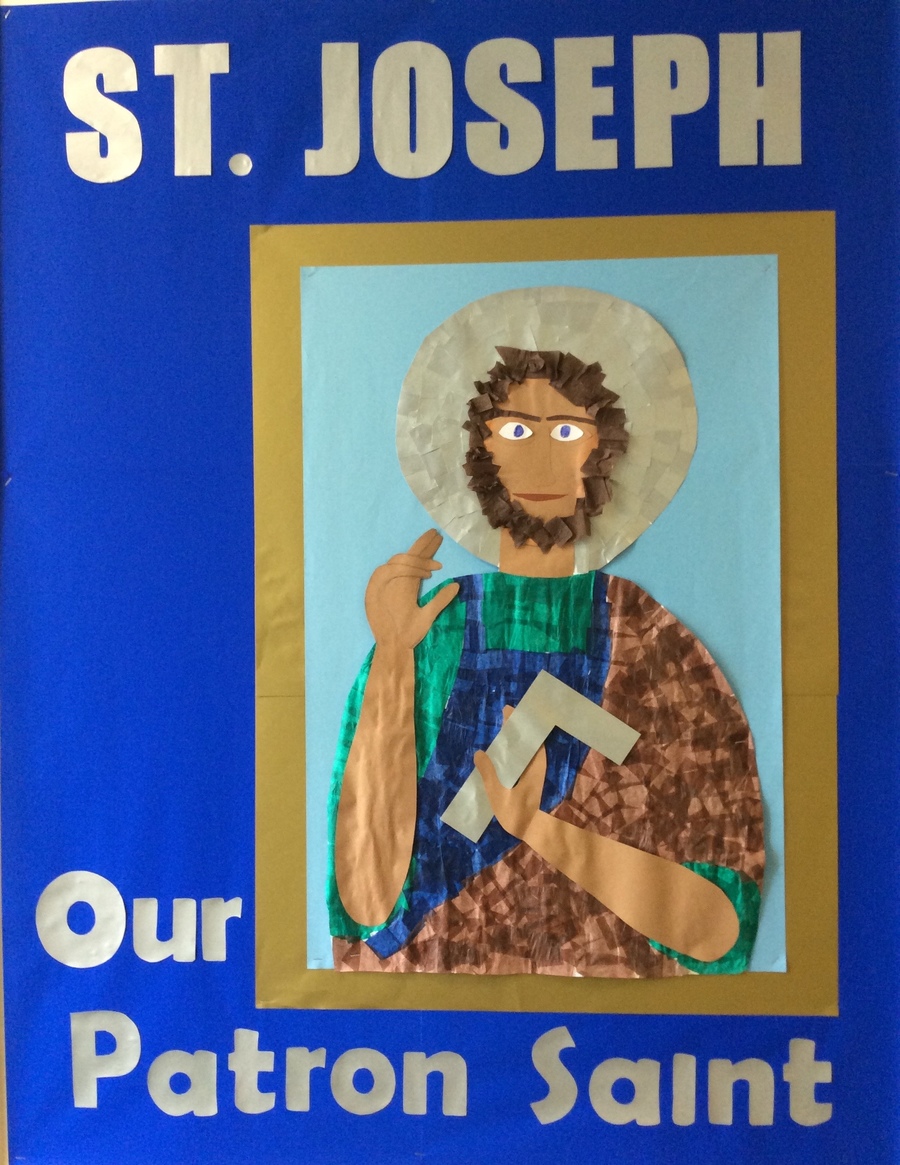 Our Patron Saint is St. Joseph. He was married to Mary, who was the mother of Jesus. We do not know very much about St. Joseph but what we do know shows that he was a good man. He was a carpenter, so he is known as St. Joseph the Worker. He is the patron saint of workers, and has two feast days. On the 19th March we celebrate Joseph the husband of Mary and on May 1st we celebrate Joseph the Worker. Joseph was engaged to Mary. After the angel told Mary that her baby would be the son of God, Joseph didn't know what to do. An angel appeared to him in a dream and told him not to worry. His job was to marry Mary and to protect the baby. He was a caring man, so he was happy to do this job. Joseph and Mary made the long trip to Bethlehem and Jesus was born in a stable there. Joseph then brought Jesus up along with Mary.